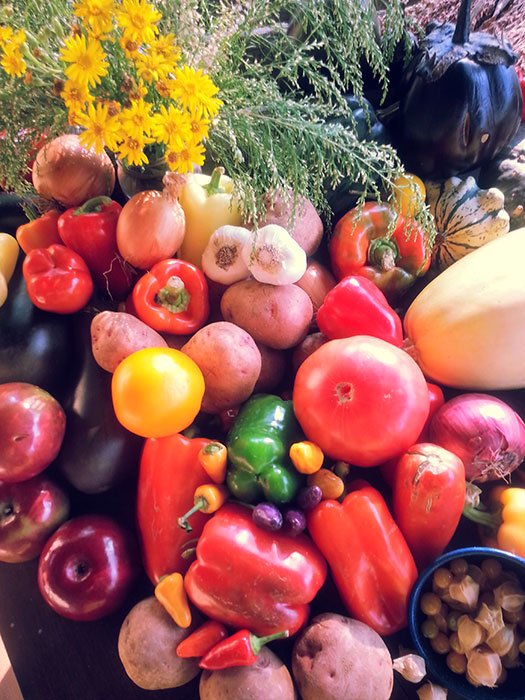 Late this October, just as the cool weather came to Iowa, I was happy to get away and visit my daughter and her family in the Florida panhandle.  My daughter constantly laments the fact that gardening in sand is difficult, and finding good organic produce is challenging and expensive.  This year's Iowa summer was cool, but the fall made up for it by graciously extending the growing season at least three weeks longer than normal. My garden was overflowing with organic heirloom produce as I was preparing for my trip.
The plan was to harvest overflow from my garden at Heritage Farm and pack as much produce as possible into three suitcases, the larger bag devoted to produce I would check at the airport.  I began my gleaning by filling a large bag with yellow, purple, orange and red sweet peppers, then threw in a few of my favorite hot peppers.  I added eggplant, squash, onions, garlic, ground cherries, gourds—including a spinning gourd for my grandson—green and ripe tomatoes, broom corn, and apples from the Historic Orchard.
The day of packing had arrived, a real challenge, and I was determined not to leave any produce behind. I zipped the last bag shut, impressed with my packing ability.  However, I was amazed at the weight of my large suitcase as I trudged it out to my car.  Along with it, I had two other very heavy bags, my computer, and my purse filled with a few chestnuts I'd found (for good luck, which I knew I would need).  I sensed taking my luggage through the airport security was not going to be pretty.
Trouble at check in… my large bag weighed 58 pounds and would cost nearly $100 to check it through! Needless to say the suitcase had to lighten up. I opened the bag on the scale and asked the attendant if she thought "a spaghetti squash and some gourds could go into my carry on?" She replied, "No problem." The scale finally read 50 lbs. and I was off to the security line.
As expected, my carry-on bag was suspect.  I stood back and watched as more security was called over to look at the x-ray for a second opinion. I overheard one say, "it looks like a football." I thought to myself that must have been the spaghetti squash.  Then I heard what all travelers dread in the security line, "Who does this bag belong to? We need to open it and check the contents."
The first question, "Are there any sharp objects?"  I was a bit intimidated and felt full disclosure was necessary, so I told him – "maybe the spikes on a gourd?" He actually laughed and did not seem concerned.  Another curious inspector asked, "Was that a football?"   I answered no, just a spaghetti squash.  She commented "This is a first. I don't even know what a spaghetti squash is, and I've never seen anyone taking a squash through security."  I logically explained about my daughter's vegetable deprivation and as she zipped the bag closed, she seemed to appreciate the situation and told me, "I wish someone would bring me fresh produce… you made my day!" Ha! If she could only see the veritable farmer's market I had checked through at the gate!
My Florida family was grateful and my daughter commented, "Thanks Mom, if we only had Iowa soil, maybe I could grow some of this here."  Hmmmm, I wonder what kind of security questions I'd face flying with three suitcases filled with good Iowa soil!
Diane Ott Whealy is Co-founder of Seed Savers Exchange, a non-profit organization with a mission to conserve and promote America's culturally diverse but endangered garden and food crop heritage for future generations by collecting, growing, and sharing heirloom seeds and plants.